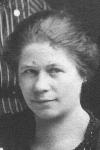 Christinna Augusta Theresa "Trace" RUDLOFF Lynch Engelgau Lockbaum, 1880-1962
Ludwig's half-sister
---

Father Ernst Friedrich "Fred" RUDLOFF, 1855-1900


Mother Anna Margarethe HENNING Rudloff, 1859-1939


Christinna Augusta Theresa "Trace" RUDLOFF Lynch Engelgau Lockbaum, 1880-1962


Brother Heinrich RUDLOFF, 1882-1882


Sister Katherine RUDLOFF, 1883-1883


Sister Anna Frieda Ottilie "Tilla" RUDLOFF Wendland, 1884-1970


Brother Oskar RUDLOFF, 1887-1910


Brother Ernst Louis RUDLOFF, 1891-1973


Brother Otto RUDLOFF, 1892-1896

---

Husband Pat LYNCH, 1875-


Son Charles F J ENGELGAU, 1897-1970

---

Husband Daniel Joseph "Joseph" ENGELGAU, 1875-1920

---

Husband George J H LOCKBAUM, 1872-1939

---
Time Line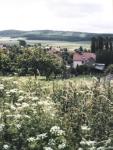 13 November 1880 - Born at Kirchgasse House above the Gut, Wenigenlupnitz, Kreis Eisenach, Thüringen at 2:30 AM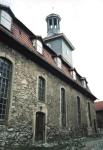 26 December 1880 - Baptized there at 2:00 PM. Godparents were Miss Christina Margaretha Maurer from Wenigenlupnitz and Andreas August Fischer, estate shepherd from Wenigenlupnitz
As of about 1881 until 1893 - Resided at Gässchen there
14 April 1882, age 1 - Brother Heinrich RUDLOFF born at Gässchen there
22 April 1882, age 1 - Brother Heinrich RUDLOFF died there of convulsions
13 May 1883, age 2 - Sister Katherine RUDLOFF born at Gässchen there
24 June 1883, age 2 - Sister Katherine RUDLOFF died there of "Kinnbacken Krämpf" jawbone spasm
30 August 1884, age 3 - Sister Anna Frieda Ottilie "Tilla" RUDLOFF Wendland born at Gässchen there
15 December 1887, age 7 - Brother Oskar RUDLOFF born at Gässchen there
21 January 1891, age 10 - Brother Ernst Louis RUDLOFF born at Gässchen there
23 October 1892, age 11 - Brother Otto RUDLOFF born at Gässchen there
15 June 1893, age 12 - Immigrated at Baltimore, Maryland
About August 1893, age 12 - Resided at Sheboygan, Sheboygan County, Wisconsin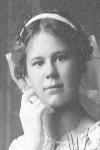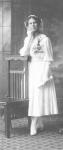 About 1896, age 15 - Married Pat LYNCH, age 20
20 December 1896, age 16 - Brother Otto RUDLOFF, age 4, died at Sheboygan of diphtheria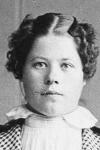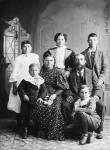 17 December 1897, age 17 - Son Charles F J ENGELGAU born there
As of sometime before 1900 - Resided at 1315 North 11th Street there
2 June 1900, age 19 - Recorded in the Federal census there
19 October 1900, age 19 - Father Ernst Friedrich "Fred" RUDLOFF, age 45, died at St. Nicholas Hospital, Sheboygan Twp, Sheboygan County, Wisconsin of larynx paralysis
13 December 1902, age 22 - Sister Anna Frieda Ottilie "Tilla" RUDLOFF, age 18, married August WENDLAND, age 26, at Trinity Lutheran Church, Sheboygan
About 1907, age 26 - Occupation listed as boarding house keeper at Milwaukee, Milwaukee County, Wisconsin
As of about 1907 until 1910 - Resided at 92 6th Street there. (Pre-1929 Milwaukee addressing system)
13 November 1907, age 27 - Married Daniel Joseph "Joseph" ENGELGAU, age 32, there. Attendants were H P Firmith from Milwaukee and Julius Manger from Milwaukee
9 May 1908, age 27 - Brother Oskar RUDLOFF, age 20, married Hilda A. KNOMER, age 18, at Sheboygan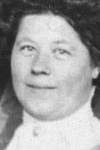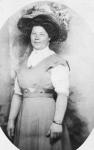 23 March 1910, age 29 - Brother Oskar RUDLOFF, age 22, died there of acute endocarditis
As of sometime before April 1910 - Resided at 2923 Clybourn Street, Milwaukee
27 April 1910, age 29 - Recorded in the United States Census there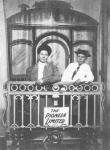 5 October 1912, age 31 - Half-brother Ludwig Wilhelm Gustav "Gust" HENNING, age 33, married Emilie J SCHENK, age 27, there
As of sometime before September 1918 - Resided at 213 North Glendale, Peoria, Peoria County, Illinois. This would be one block west of I-74 about 1/2 mile north of the Illinois River. The area has since been redeveloped into commercial buildings.
23 July 1919, age 38 - Son Charles F J ENGELGAU, age 21, married Julia KALISKA, age 23, at Manhattan, New York County, New York
As of sometime before 1920 - Resided at 447 Cass Street, Milwaukee. Besides the Joseph Engelgau and Charles Engelgau families, the household included five lodgers.
1920, age 39 - Occupation listed as boarding house keeper
14 January 1920, age 39 - Recorded in the Federal census at Milwaukee
22 June 1920, age 39 - Husband Daniel Joseph "Joseph" ENGELGAU, age 45, died
23 June 1920, age 39 - Granddaughter Loretta T ENGELGAU Doherty born at Milwaukee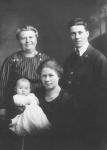 About 1923, age 42 - Resided at 1327 Vliet St there and occupation listed as homemaker there
5 September 1923, age 42 - Married George J H LOCKBAUM, age 51, there
As of sometime before November 1923 - Resided at Menasha, Winnebago County, Wisconsin
May 1927, age 46 - Grandson Willard ENGELGAU born at Milwaukee
About 1930, age 49 - Brother Ernst Louis RUDLOFF, age 38, married Dorothy at Los Angeles, Los Angeles Cty, California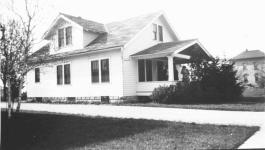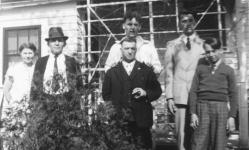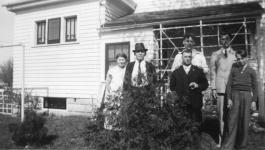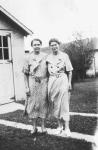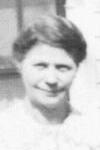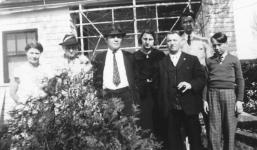 12 April 1939, age 58 - Husband George J H LOCKBAUM, age 67, died at 794 Tayco Street, Menasha
24 September 1939, age 58 - Mother Anna Margarethe HENNING Rudloff, age 79, died at St. Nicholas Hospital, Sheboygan of senile dementia
6 July 1946, age 65 - Granddaughter Loretta T ENGELGAU, age 26, married Franklin James DOHERTY, age 30, at Holy Angels Church, 3743 N 11th St, Milwaukee
5 November 1946, age 65 - Brother-in-law August WENDLAND, age 70, died at Sheboygan of throat cancer
23 October 1951, age 70 - Half-brother Ludwig Wilhelm Gustav "Gust" HENNING, age 72, died at Deaconess Hospital, Milwaukee of Diabetes complicated by heart disease and arteriosclerosis
As of 1952 until 1962 - Resided at 1418 W Atkinson Ave, Apt. 9 there
1962, age 81 - Occupation listed as homemaker
25 June 1962, age 81 - Died at Milwaukee County Hospital, Wauwatosa, Milwaukee County, Wisconsin of subarachnoid hemorrhage due to hypertensive and arteriorscerotic cardiovascular disease
27 June 1962 - Buried by Laemmrich Funeral Home, 312 Milwaukee St, Menasha at St Margaret Cemetary, Neenah, Winnebago County, Wisconsin