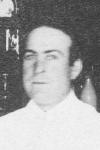 Daniel Joseph "Joseph" ENGELGAU, 1875-1920
Tavern owner, traveling salesman
Ludwig's half-sister's second husband
---

Father Peter ENGELGAU


Mother Katherine DUEX Engelgau


Daniel Joseph "Joseph" ENGELGAU, 1875-1920

---

Wife Christinna Augusta Theresa "Trace" RUDLOFF Lynch Engelgau Lockbaum, 1880-1962

---
Time Line
23 May 1875 - Born in Michigan
Until 1907, age 31 - Resided at Saint Clair, Saint Clair County, Michigan
As of about 1907 until about 1908 - Occupation listed as Commercial Traveler at Milwaukee, Milwaukee County, Wisconsin
As of about 1907 until 1908 - Resided at 92 6th St there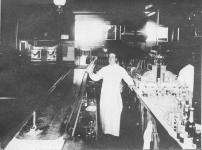 13 November 1907, age 32 - Married Christinna Augusta Theresa "Trace" RUDLOFF, age 27, there. Attendants were H P Firmith from Milwaukee and Julius Manger from Milwaukee
As of sometime before April 1910 - Resided at 2923 Clybourn Street there
April 1910, age 34 - Occupation listed as saloon keeper
27 April 1910, age 34 - Recorded in the United States Census at Milwaukee
1918, age 42 - Occupation listed as bartender at Blemmons & Mongoven, 500 Franklin, Peoria, Peoria County, Illinois. There is no longer a building at that address.
As of sometime before September 1918 - Resided at 213 North Glendale there. This would be one block west of I-74 about 1/2 mile north of the Illinois River. The area has since been redeveloped into commercial buildings.
12 September 1918, age 43 - Registered for the WW-I draft there
23 July 1919, age 44 - Stepson Charles F J ENGELGAU, age 21, married Julia KALISKA, age 23, at Manhattan, New York County, New York
As of sometime before 1920 - Resided at 447 Cass Street, Milwaukee. Besides the Joseph Engelgau and Charles Engelgau families, the household included five lodgers. The family included his stepson, Charlie (a street car conductor) and daughter-in-law.
Occupation listed as traveling broom salesman
14 January 1920, age 44 - Recorded in the Federal census at Milwaukee
22 June 1920, age 45 - Died