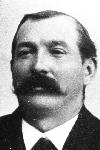 Ernst Friedrich "Fred" RUDLOFF, 1855-1900
Coachman, farmer
Ludwig's step-father
---

Father Georg Michael RUDLOFF, 1826-1878


Mother Anna Magdalena JäGER Rudloff, 1824-


Ernst Friedrich "Fred" RUDLOFF, 1855-1900

---

Wife Anna Margarethe HENNING Rudloff, 1859-1939


Daughter Christinna Augusta Theresa "Trace" RUDLOFF Lynch Engelgau Lockbaum, 1880-1962


Son Heinrich RUDLOFF, 1882-1882


Daughter Katherine RUDLOFF, 1883-1883


Daughter Anna Frieda Ottilie "Tilla" RUDLOFF Wendland, 1884-1970


Son Oskar RUDLOFF, 1887-1910


Son Ernst Louis RUDLOFF, 1891-1973


Son Otto RUDLOFF, 1892-1896

---
Time Line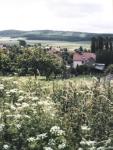 17 August 1855 - Born at Wenigenlupnitz, Kreis Eisenach, Thüringen at noon
2 September 1855 - Baptized at 2:00 PM. Godparents were Georg Michael Lunz and Anna Katterina Rudloff from Wenigenlupnitz, Kreis Eisenach, Thüringen
10 June 1878, age 22 - Father Georg Michael RUDLOFF, age 51, died at Wenigenlupnitz
1880, age 24 - Occupation listed as Kutscher at Rittergute there
As of about 1880 until about 1893 - Resided there
4 April 1880, age 24 - Obtained marriage license at Standesamt there and married Anna Margarethe HENNING, age 20, there at 12:30 PM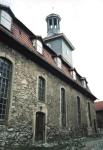 13 November 1880, age 25 - Daughter Christinna Augusta Theresa "Trace" RUDLOFF Lynch Engelgau Lockbaum born at Kirchgasse House above the Gut there
14 April 1882, age 26 - Son Heinrich RUDLOFF born at Gässchen there
22 April 1882, age 26 - Son Heinrich RUDLOFF died there of convulsions
13 May 1883, age 27 - Daughter Katherine RUDLOFF born at Gässchen there
24 June 1883, age 27 - Daughter Katherine RUDLOFF died there of "Kinnbacken Krämpf" jawbone spasm
30 August 1884, age 29 - Daughter Anna Frieda Ottilie "Tilla" RUDLOFF Wendland born at Gässchen there
15 December 1887, age 32 - Son Oskar RUDLOFF born at Gässchen there
21 January 1891, age 35 - Son Ernst Louis RUDLOFF born at Gässchen there
23 October 1892, age 37 - Son Otto RUDLOFF born at Gässchen there
As of 1893 until 1900 - Occupation listed as Farmer at Sheboygan Twp, Sheboygan County, Wisconsin
15 June 1893, age 37 - Immigrated at Baltimore, Maryland
As of August 1893 - Resided at Sheboygan, Sheboygan County, Wisconsin
About 1896, age 40 - Daughter Christinna Augusta Theresa "Trace" RUDLOFF, age 15, married Pat LYNCH, age 20
20 December 1896, age 41 - Son Otto RUDLOFF, age 4, died at Sheboygan of diphtheria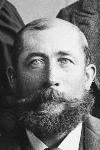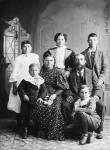 17 December 1897, age 42 - Grandson Charles F J ENGELGAU born there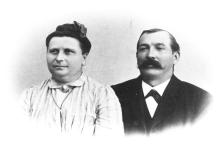 12 June 1900, age 44 - Recorded in the Federal census at Sheboygan Twp. Friedrich and Anna Rudloff, with four of their five surviving children, were living on a rented farm.
As of sometime before October 1900 - Resided at Town of Sheboygan, Sheboygan County, Wisconsin. Fred and his family lived on the F. Thieme farm, west of Sheboygan.
19 October 1900, age 45 - Died at St. Nicholas Hospital, Sheboygan Twp of larynx paralysis
Buried by Sheboygan Lutheran Cemetery, Sheboygan. There is no grave marker.